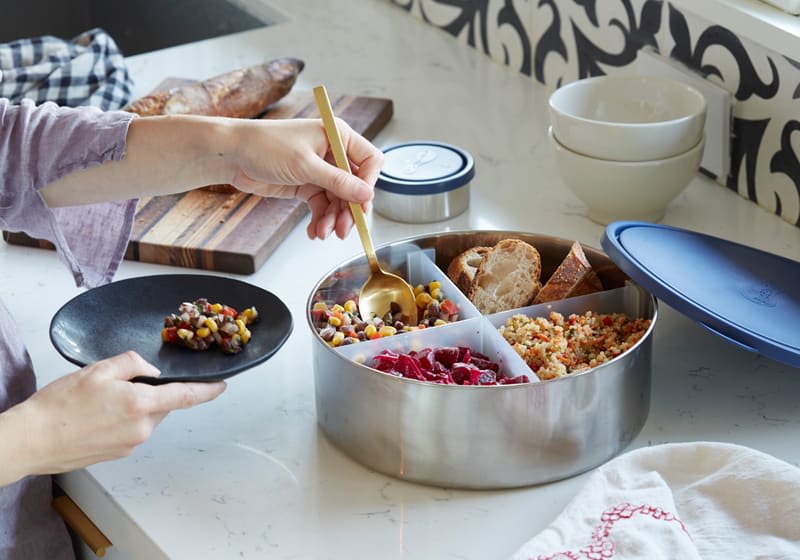 Start the New Year by taking steps to create a healthy home. Simple changes can have a huge impact on your health and the health of the planet. Here are our top ten healthy home tips for the new year:
1. Question Plastic
Plastics not only pollute our planet, but research has shown that some plastics also harm our health. Avoid cans lined with plastic and eliminate single-use plastics that break down easily. Seek out non-plastic alternatives: use a
cloth shower curtain
, purchase food and drinks in glass jars/bottles instead of plastic, and pack lunches and leftovers in
stainless steel and glass
. Even
gum is often made with plastic
, so it's important to do without or learn about plastic-free alternatives.
2. Avoid Fragrance
Fragrance in dryer sheets, fabric softeners, cleaning products, candles and air fresheners often contain rarely disclosed toxic chemicals, including phthalates and formaldehyde. If you like scents, make sure they come from sources you can identify like essential oils, and avoid products that list "fragrance" as an ingredient.
3. Clean without Toxins
Not only do conventional cleaning products harm our health, the chemicals also go down the drain and pollute our waterways. Vinegar, baking soda and
Dr. Bronner's castille soap
are remarkably effective, non-toxic, inexpensive cleaning options. Skip the pre-packaged cleaners unless you're comfortable with their toxicity rating on
Skin Deep
.
4. Use Non-Toxic Personal Care Products
Soaps, skin care and makeup are loaded with questionable chemicals including parabens, phthalates, toluene and triclosan. Because the industry is highly unregulated, and we absorb most of these products through our skin, use
EWG's database
to identify safe alternatives and try homemade solutions.
5. Dust
Household dust is not only responsible for allergies, but it's also
made up of toxins
from your home including fire retardants, lead and other chemicals. Vacuum often with a HEPA filter, open your windows for ventilation, and
clean with a damp cloth
.
6. Ditch the Non-Stick
Since the EPA lists PFOA (one type of PFC used in some non-stick and water-resistant coatings) as a "likely human carcinogen", it's best to find alternatives. Use stainless steel or cast iron pans, avoid takeout containers, and don't purchase clothing with unnecessary stain proofing or water-resistant coatings.
7. Control Pests Naturally
These days it's pretty simple to control pests by keeping your home clean, sealing entrances and using natural pest remedies. The
NRDC has suggestions and a link
for controlling over 30 different pests naturally.
8. Eat FLOSN foods
Thanks to the
Conscious Kitchen
, we have a new acronym to help us remember what foods to eat: fresh, local, organic, seasonal and non-GMO. This healthy home tip is easy if you shop at the farmers market, cook homemade meals, and pack lunches daily.
9. Drink Filtered Tap Water
Tap water is regulated by the EPA, which requires yearly public reports, but bottled water is regulated by the FDA, which has no such requirement. Drinking filtered water is an important healthy home tip, but which filter should you use? Find out with this updated
water filter guide
.
10. Choose Natural Materials
Furniture made of wood with wool or cotton cushions will likely contain fewer toxins than those made of pressboard, plastics or stuffed with
treated
polyurethane foam. Remember this tip when replacing your mattress and bedding too.